SIPEC boasts a high rate of employment in outstanding companies, thanks to full-fledged support from faculty and from the career and employment center
The proportion of SIPEC students who have decided on their future paths is at a consistently high level within the university's liberal arts fields because the language skills, cosmopolitan way of thinking, and specialized knowledge cultivated in your studies at this school are highly regarded by HR professionals.
All kinds of helpful resources, activities, and advisors are available for students seeking employment: the university career and employment center, undergraduate alumni associations, and the cooperation of faculty members. The school hosts a large number of practical mock interviews in addition to career advice courses, such as lectures to help students understand the perspectives of companies that are hiring and programs on internships. SIPEC presents a supportive attitude that allows students to approach job-hunting activities based on careful consideration of their own aptitudes and future goals. These efforts help students get hired to work at many outstanding firms.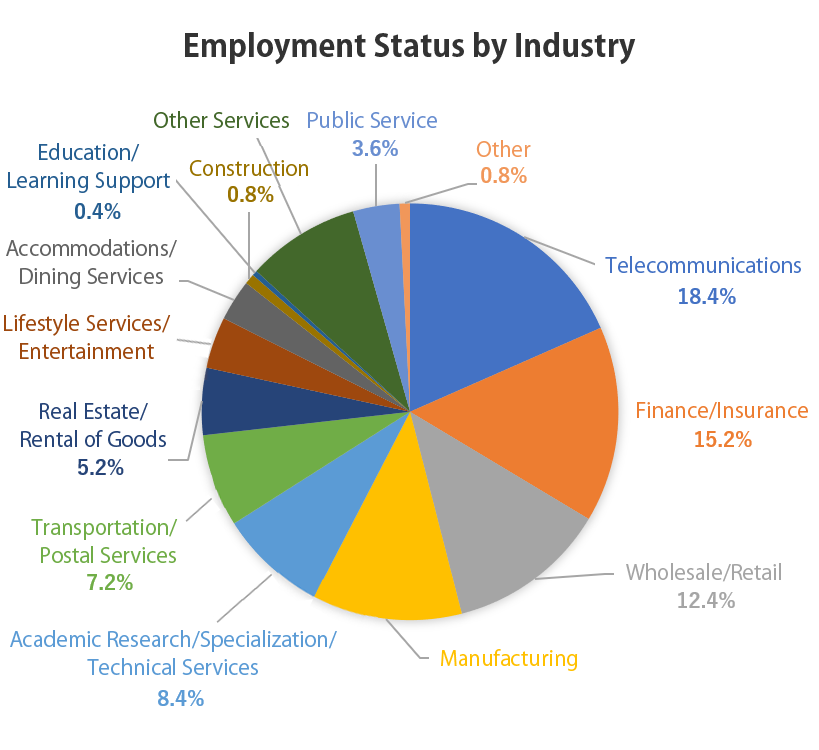 Graduates and Career Path Decision Rate, Academic Year 2019
Graduates
Male: 117
Female: 164
Total: 281
Career Path Decision Rate (rate of new employment decisions)
Male: 86.3%
Female: 95.1%
Total: 91.5%
Past Track Record
Top Companies for Employment
All Nippon Airways Co., Ltd./Rakuten Co., Ltd./National Government/National Public Servants, City of Tokyo/Japan Airlines Co., Ltd./Sumitomo Mitsui Trust Bank Co., Ltd./Mizuho Financial Group Co., Ltd./SMBC Nikko Securities Co., Ltd./ABeam Consulting Co., Ltd./JTB Group/ Tokio Marine & Nichido Fire Insurance Co. /Accenture Co., Ltd./Nippon Life Insurance Company/Mitsui Sumitomo Insurance Co., Ltd. / HIS Co., Ltd. / Sumitomo Corporation/PwC Consulting LLC/Co. Sumitomo Mitsui Banking Corporation/Mitsubishi UFJ Bank, Ltd./Resona Holdings Co., Ltd./Itochu Corporation/SCSK Corporation/JCB Corporation/JALUX Co., Ltd./Trans Cosmos Corporation/Nippon Express/Nomura Securities Co., Ltd./Persol Carrier Co., Ltd./Honda Motor Co., Ltd./Mitsubishi UFJ Nikos Co., Ltd./Mitsubishi UFJ Morgan Stanley Securities Co., Ltd./ANA Airport Service Co., Ltd./NTT Communications Co., Ltd./JAL Sky Co., Ltd./Digital Advertising Consortium Co., Ltd./Bank of Japan /Japan Post Co., Ltd./Neo Career Co., Ltd./ Panasonic Corporation/BayCurrent Consulting Co., Ltd./Marubeni Corporation/Mitsubishi Corporation Machinery Co., Ltd./Mitsubishi UFJ Trust and Banking Corporation/Recruit Group
Past Employment Results in Public Organizations
International Organizations
Asian Development Bank/United Nations High Commissioner for Refugees (UNHCR)/United Nations Development Program (UNDP) JPO/World Bank/United Nations World Food Program (WFP)

National Public Servants
Ministry of Education, Culture, Sports, Science and Technology/Ministry of Foreign Affairs/Council of Foreign Affairs and Defense Committee Research Office/Ministry of Agriculture, Forestry and Fisheries/Tokyo National Taxation Bureau/Tokyo Immigration Bureau/Board of Audit Japan/Ministry of the Environment/Ministry of Economy, Trade and Industry/Ministry of Land, Infrastructure, Transport and Tourism/Ministry of Defense/Financial Affairs Division Specialist/Maritime Self-Defense Force Officer Candidate School/Defense Facilities Administration Agency/Japan Maritime Defense Forces

Other
Japan International Cooperation Agency (JICA)/Japan Foundation/Bank of Japan/Japan External Trade Organization (JETRO)/Japan Aerospace Exploration Agency (JAXA)/Japanese Red Cross Society/Metropolitan Police Department/National Printing Bureau